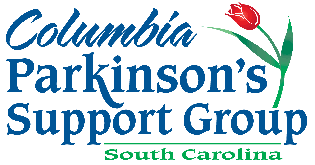 The Columbia Parkinson's Support Group is incorporated as a non-profit in the State of South Carolina. The mission of the Columbia Parkinson's Support Group is to provide the Parkinson's Community with a safe environment to obtain

SUPPORT, INFORMATION, EDUCATION,

create

AWARENESS

about Parkinson's Disease, and

FUND RAISING

to further research for the cure of Parkinson's Disease.
Our support group is located in the mid-lands of South Carolina; serving the counties of (but not limited to) Calhoun, Fairfield, Kershaw, Lexington, Orangeburg, Newberry, Richland, Saluda, and Sumter.




Meetings are open to anyone regardless of race, color, and national or ethnic origin.

We welcome anyone afflicted with Parkinson's disease; anyone who has an interest in Parkinson's disease; as well as all visitors,

family, friends,

and guests to our monthly meetings.
There is no cost to attend our meetings
All visitors are welcome. Please feel free to bring your family, friends, and anyone interested in Parkinson's to any of our monthly meetings.
When -
3rd Sunday of every month (except June)
Time -
3:00 p.m. until 4:30 p.m.
With time available after our meetings for socialization among guests and support group members
Cost -
FREE/ Donations Appreciated
Where -
Lexington Medical Park 1 - Auditorium
2720 Sunset Boulevard, West Columbia, SC 29169
Please Bring Guests:
Please don't forget, we always welcome any guests to come with you. The more your family, friends, neighbors, business associates, or anyone who has an interest in Parkinson's disease can learn about Parkinson's disease, the more support they can provide. We always welcome students from our universities and colleges - and professionals from the medical community!
To read more, please click on the above title.
To access the CDR Library catalog, please click on this
link.