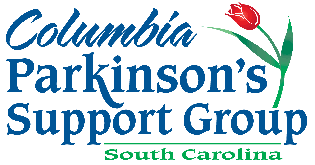 What's New From the Columbia Parkinson's Support Group
April is Parkinson's Awareness Month in the Nation and in South Carolina
Show your support of "Parkinson's Awareness Month" wear something RED to our meeting on Sunday April 21, 2013
(Red underwear doesn't count!)
IMPORTANT --- PLEASE HELP OUR 2nd TEAM OF USC STUDENTS!
THEY NEED PD SUBJECTS ASAP (As Soon As Possible) FOR THEIR DEGREE REQUIREMENTS
J.D. Hammond, who is a senior biomedical engineering student at the University of South Carolina, has contacted us
asking us to help him and his team. As part of their program's degree requirements, they are required to complete a
senior design capstone project that utilizes a team of engineering students to improve the design of a currently marketed
medical device.
JD Hammond's group decided to test and make changes to a device marketed by Great Lakes Neurotechnologies used to
monitor the symptoms of Parkinson's disease.
They would like to run additional tests on Parkinson patients ASAP - their project presentation is on April 25th. Yes,
they know that the time period is very short!
JD told me that they have had trouble finding participants diagnosed with Parkinson's disease to be subjects, because
they did not know of any patients in the area. (This is "not" uncommon for our community to be unaware of Parkinson
patients living near them. That is why it is important that we help create Parkinson's awareness not only in April, but also
throughout the year!) JD and his team very recently found that there was a Parkinson's support group in the Columbia
area. Given that, April is "Parkinson's Awareness Month"; we think helping these students will be an "excellent" way to
create PD awareness. This USC engineering student team would appreciative "any help" our support group can provide
in the final days of their study.
The tests are non-invasive - they only require the Parkinson's participant to move their hands, and just point to a computer
screen. You do not have to have any special or complicated computer skills! The tests take about 20 minutes including
time spent filling out an anonymous survey. Click here for a link to a YouTube video for you see what a test of this device
looks like. We recommend that you watch the YouTube video (even if you don't think you will volunteer).
All information gathered by the students is confidential. The University Institutional Review Board has approved their project. Having Parkinson's participants to test would greatly enhance their project. They are willing to meet with any participant during the week or on weekends. They can come to your home or you can go to them. If you want to volunteer or want more information, please feel free to call JD Hammond at any time at 843-323-9262 or email JD Hammond at hammonjd@email.sc.edu
Note: Our support group tries to assist students in their efforts to learn more or to study about Parkinson's disease. They are our future medical providers. AND - After all it is Parkinson's Awareness Month. Help us create awareness!
To read more about what is going on with Columbia's Parkinson Support Group, please click on the above title.
To access the CDR Library catalog, please click on this
link.