APRIL IS PARKINSON'S AWARENESS MONTH IN THE NATION AND IN SOUTH CAROLINA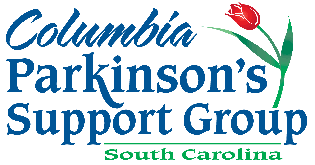 Did you know that April is Parkinson's Awareness Month in our nation and the state of South Carolina?
Did you know that every April, Proclamations are issued declaring April to be Parkinson's Awareness Month?
Do you know that you can help raise awareness about Parkinson's disease?
Have you marked your calendar about our special meeting
on April 21, 2013
in honor of Parkinson's Awareness?
YOU DO NOT WANT TO MISS THIS SPECIAL MEETING TO CELEBRATE PARKINSON'S AWARENESS MONTH
Our next meeting is Sunday - April 21, 2013 at 3:00 pm until 5:00 pm
<<< Please note that this meeting will last longer >>>
There may be time after the meeting to ask questions one-on-one with the
Parkinson's specialists.
Topic: "Q & A Open Forum Panel of PD Specialists".
We will have doctors and specialists, who treat Parkinson patients, from USC (University of South Carolina) in Columbia
SC, MUSC (Medical University of South Carolina) in Charleston SC, Georgia Health Sciences University (formally known
as MCG) in Augusta GA, and Mary Baldwin College (Murphy Deming College of Health Sciences) in Staunton VA. We
will also have a Deep Brain Stimulation (DBS) Therapy Representative from Medtronic Neuromodulation. You will have
an opportunity to meet these PD specialists and ask your questions about Parkinson's disease and/or living with
Parkinson's in this open forum.
Please send your questions for the doctors "before the meeting" to: contact@columbiaparkinsonsupportgroup.org
Your email questions will be answered "before" those asked at the meeting. We will respect your privacy and will not share your name or email address with anyone, including the panel members. The panel will not receive the questions until at the actual meeting.
Where
: Lexington Medical Park 1 - Auditorium - 2720 Sunset Boulevard, West Columbia, SC 29169 - For meeting location maps go to
here
.
For more information about the members of our April 21st panel, please go to our "Meeting & Events Calendars" page
here
.
Cost: FREE - Please Bring Guests. We always welcome any guests to come with you. The more your family, friends, neighbors, business associates, or anyone who has an interest in Parkinson's disease can learn about Parkinson's disease, the more support they can provide. We always welcome students from our universities and colleges - and professionals from the medical community! Meetings are open to anyone regardless of race, color, and national or ethnic origin. We welcome anyone afflicted with Parkinson's disease; anyone who has an interest in Parkinson's disease; as well as all visitors, family, friends, and guests to our monthly meetings. There is no cost to attend our meetings.
To learn more, please click on the above title.
To access the CDR Library catalog, please click on this
link.