Hi friends! The Shuck-A-Rama Oyster Roast in James Island, SC is only 8 days away! We have three AMAZING bands lined up to sing and dance along with. Don't forget to get your early bird rate tickets
here
for unlimited oysters, beer, wine, BBQ sliders and fun!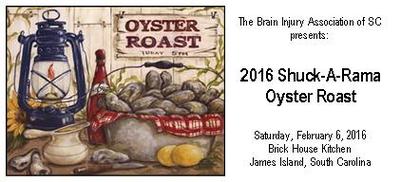 The Oyster Roast Fundraiser will begin at 5:00 p.m. and end at 8:00 p.m. We are excited to host this event at the Brick House Kitchen this year. You can see the venue in the picture on the left. To learn more about the Brain Injury Association of SC please click here to access our website!
This year we will be accepting toiletry donations to be distributed families needing to stay overnight in the hospital after a loved one has sustained a traumatic brain injury. Those making toiletry donations will receive an extra door prize ticket.