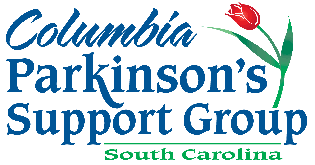 Meeting Date
: November 18, 2012 - Sunday
Meeting Time
: 3:00 pm - 4:30 pm
Meeting Place:
Lexington Medical Park #1 Auditorium
2720 Sunset Boulevard, West Columbia, SC 29169
Speaker: Stephanie Scharf, OTR/L, DRS, C/NDT
Stephanie is an Occupational Therapist working for Palmetto Health Richland in the Geriatric
Mobility Research Clinic. She has started a Driving Rehabilitation Program. She will be discussing the Driving Program and evaluation process, driving safety/warning signs and
adaptive equipment for the vehicle. Stephanie will bring some simple adaptive equipment tools,which may help with transfers, seat belt management, or blind spot assistance for lane changes
Our Meetings Are Free
, But.... Yes, there are no dues "but" we always need your donations. Every
dollar you donate is one dollar more that allows us to continue to provide support, information, education,
awareness about Parkinson's disease, and fund raising to further research for the cure of Parkinson's
disease. Without your donations, there
would be no "Columbia Parkinson's Support Group"!
Please Feel Free To Bring Guests
- We always welcome any guests to come with you. The more your
family, friends, neighbors, business associates, or anyone who has an interest in Parkinson's disease can learn about Parkinson's disease, the more support they can provide. We always welcome students from our
universities and colleges!
SPECIAL NOTE:
The support group website was moved to a new server over the weekend - as a result we are having difficulty updating (FTP) to the website with new information - hopefully we will have the problem resolved soon. I still encourage you to visit the website, because you may have missed the last time we updated it.
To Contact Us: Please call us between the hours of 10:00 a.m. until 8:00 p.m. Eastern Standard Time Zone - Because we screen our telephone messages, please leave a message on our answering machines, and mention "Parkinson" -or- you can send us email
Dottie Gantt, President
Email:
contact@columbiaparkinsonsupportgroup.org
Telephone: 803-604-0061
Carol Baker, Vice President
Email:
caroltbaker@bellsouth.net
Telephone 803-781-6193
You + One Phone Call + One Email = EXPD2
Dr. Tom Faber has an on-going interest in trying to discover if exercise has any influence on the
progression of dementia in Parkinson's disease (PDD). Because of his interest, Dr. Faber and
the Exercise Science department at USC are developing a clinical study called EXPD2 (EXercise
for Prevention of Dementia in Parkinson's Disease).
EXPD2 will consist of two groups of PD patients over the age of 50, without dementia, and
without any limitations to exercise (e.g., no major heart or lung problems, no severe arthritis, etc).
The patients will be split into high and low intensity exercise groups. They will be followed for a
period of time to determine if there is any apparent difference in cognitive testing between the two
groups.
The exercise programs and any testing will be "FREE" to all participants.
Dr. Faber said, "I would envision PD evaluations twice yearly visits with our neurology department for dementia and PD
evaluations, and perhaps some blood work. As of this date, we do not have the funding for the EXPD2 study, so I can't
make any promises, but I can tell you that several investigators here at USC have a high degree of interest in the study as
proposed."
ONE PHONE CALL - If you think you "may be" interested in participating in the EXPD2
study, please call Hannah or Joselyn at the USC Department of Neurology -
803-545- 6078
-- to add your name to a list of patients interested in participating. By putting your
name on the EXPD2 list, there is no commitment at this time. Once funding is obtained,
they will contact those who are on the EXPD2 list to see if you are still interested.
ONE EMAIL - You can help EXPD2 become a funded clinical study by sending just one
email expressing your support for funding the EXPD2 clinical study about dementia and
Parkinson's disease. Note: Your privacy "will be respected". Your email address will not
be kept after the email is received or used for anything else - no spam - no solicitations -
no nothing
.
What if you are "not interested" in participating in Dr. Faber's EXPD2 study, but you want
to help? You can still help by sending just "one email" expressing your support for
funding the EXPD2 clinical study about dementia and Parkinson's disease.
ALL YOU HAVE TO DO -- send your email to expd2_support@live.com Please
include a short statement about the following 4 questions:
1. Who you are? I am a ... (patient, caregiver, family member of a patient, co-worker of a patient, etc.)
2. Why this study is important to you? The EXPD2 clinical study is important to me because ...
3. What you think about the condition of Parkinson's disease? I think that the condition of Parkinson's
disease ...
4. What you think about the condition of dementia in Parkinson's disease? I think that the condition of
dementia in Parkinson's disease ...
THAT IS ALL IT TAKES TO SHOW YOUR SUPPORT FOR EXPD2!
ONE PHONE CALL to 803-545-6078 to tell them you "may be interested" in participating in the EXPD2 clinical study.
ONE EMAIL to expd2_support@live.com to let them know you support funding the EXPD2 clinical study (even if
you decide not to be a participant in the clinical study.)
Mark Your Calendars!
December 16, 2012 - Our monthly meeting in December will be a party! Join us
for our Annual Christmas / Holiday Party. Entertainment and Refreshments will be
provided. Just bring yourself and any guests you wish to invite.
We will be having live entertainment by Bob Michalski, who plays a wide variety of
contemporary and jazz instrumental selections. Bob has appeared in many
locations around Columbia, including WIS TV, churches, weddings, and corporate
events. This is an excellent opportunity to meet, talk with, and socialize with other members of our
support group.
January 20, 2013 - Our first monthly meeting in the New Year of 2013, will be a "very special meeting". The meeting
topic will be "Managing Chronic Pain with Traditional and Alternative Treatments". The meeting format will be our
Doctor's Q & A Panel. This meeting will be a joint meeting with the "Vital Energy, Inc. Wellness and Rehab Center -
Fibromyalgia Support Group" and the "Columbia Parkinson's Support Group. More details to come about who will be on
the Doctor's Panel as participants!
REMINDER -- Be sure to visit our "Meetings & Events & Calendars" web page often. We update our calendars with dates
and information frequently!
Medicare Open Enrollment - December 7th Deadline
Every year, all people with Medicare have the opportunity to enroll in or change their prescription drug plan, also known as Part D. The Annual Enrollment Period for Part D opened October 15 and runs through December 7, 2012. The costs and benefits of each plan vary from year to year, so it is important for beneficiaries to carefully review their options and make the best choices possible for the coming year. Coverage begins for enrollees in January 2013. For more information on how to navigate the Annual Open Enrollment Period, we encourage you to visit www.medicare.gov for information about enrolling in or changing prescription drug plans.
To read more, please click on the above title.
To access the CDR Library catalog, please click on this link.